Allison has enjoyed a successful and varied career in the performing arts – as a singer, actress and more recently as a producer and director. She has worked in many fields including music theatre, opera, cabaret, drama, film and concert work and has made several recordings. She has performed throughout Australia, the United Kingdom, Europe and Asia and has been involved in festivals including the Edinburgh Fringe Festival, the Melbourne International Comedy Festival and Tasmania's own Ten Days on the Island.
Locally, Allison has worked with many of the major theatre and opera companies, in roles such as Lily in The Secret Garden, Cosette in Les Miserables, Johanna in Sweeney Todd and Sylvia in the world premiere of For the Term of His Natural Life, for which sh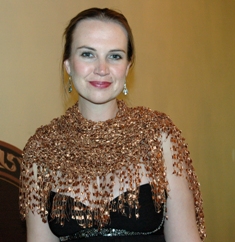 e also features on the original cast recording. She has performed for Bel Canto Young Opera and IHOS opera, as well as recording a solo concert work for soprano, Incantation Echo.
Whilst living in Melbourne, Allison played Claudia in the musical Nine, which earned her a nomination for the Gladys Moncrieff award from the Musical Theatre Guild of Victoria.
An experienced chorister, Allison was a member of the Ogilvie Concert Choir for many years and has also sung with the National Youth Choir of Australia and the Royal Melbourne Philharmonic.
In 2006, Allison established her own company, dell'Arte Productions, producing and directing a sell-out season of the one-act musical The Last Five Years. She also produced and performed in her own one-woman show, I'm a Stranger Here Myself, based on the work of Kurt Weill, and released a solo album of selected Weill songs. After a successful season here in Hobart, Allison toured the show to the Edinburgh Fringe Festival to great reviews.
She is currently working on her next one-woman show, and in February will appear as Logainne Schwarzandgrubeniere in The 25th Annual Putnam County Spelling Bee for the Hobart Repertory Theatre Company.