Tasmanian baritone Michael Lampard is 22 years old and has completed a Bachelor of Music with First Class Honours studying with Suzanne Ortuso. Michael has received recognition nationally and internationally, performing as soloist in recital, oratorio and opera. In 2004 Michael was awarded Associate of Trinity College London diploma and in 2005 Licentiate of Music Australia diploma. Michael is a conductor and composer holding posts with choirs and orchestras in Tasmania and having works performed in Australia and overseas. Michael is currently the librarian for the Tasmanian Composers Collective.
Michael has performed as soloist with the Sydney Symphony Orchestra, Tasmanian Symphony Orchestra, Australian Opera and Ballet Orchestra, Hobart Chamber Orchestra, Orchestre Pasdeloup, Rome Festival Orchestra, Melbourne Opera, Alexander Productions, IHOS Opera in repertoire ranging from Bach's St. Matthew Passion and Purcell's Dido and Aeneas to Puccini's La bohème and many Australian and world premieres. Conductors he has worked with include: Richard Bonynge, Placido Domingo, Brian Castles-Onion, Fritz Maraffi, Simon Kenway, Timothy Sexton, Jean Louis Forestier, Gary Wain, Myer Fredman, Carol Nies, Peter Tanfield, Jonathon Grieves Smith, Rick Prakhoff, Greg Hocking and Simon Reade. In 2007 he was selected as a quarter-finalist in Placido Domingo's OPERALIA competition in Paris. In that year he was also a semi-finalist in the Australian Singing Competition. In 2006 he was a finalist in the Australian Singing Competition in which he received four awards including the audience vote award. In 2008 Michael was once again a finalist in the Australian Singing Competition where he was the recipient of four awards including the International Opera Productions Prize enabling Michael to record a demo CD of operatic excerpts with the Prague Radio Symphony Orchestra in 2009 in Prague.

In 2005 Michael appeared in the role of Guglielmo from the Mozart opera Così fan tutte at the Rome Opera Festival. Michael was selected through international audition and is the first Australian singer to be involved with this festival. Michael regularly performs in concert recitals from the genres of English art song, German lieder, French Melodie, Arie Antiche, Sacred vocal repertoire as well as commissioning and performing new works from composers both in Australia and Overseas. In 2007 an album entitled Scent of Snow was released in Japan and featured Michael Lampard singing music by Tasmanian composer Tim Jones. For this release Michael appeared live on NHK radio in Japan.
Recent engagements include the role of Schaunard in Puccini's 'La Boheme' with the Melbourne Opera Company, Faure's 'Requiem', Rutter's 'Mass of the Children', Bach's 'St. Matthew Passion' and recitals at Meadowbank Estate, St. David's Cathedral and Runnymede. Future engagements include a resident artist position with Di Capo Opera in New York, a performance of Schubert's 'Winterreise', Matthew Dewey's one man opera 'The Buzz of the Sea', Handel's 'Messiah' and a concert of Bach Cantata's with renowned soprano Jane Edwards including the cantata 'Ich Habe Genug'.
For further information, repertoire lists, a performance diary and to hear samples of Michael's work visit his official website: http://www.michaellampard.com
Michael's repertoire highlights: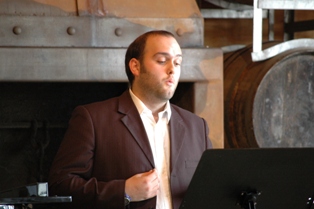 Opera:
Bugden: Jeffreys (The Call of Aurora)
Dewey: Clown (15 Years on Hold)
Gilbert and Sullivan: Judge (Trial by Jury)
Griffiths: Boyfriend (For No Apparent Reason?)
Koukias: Elvadas (Olegas); Baritone (Da Ponte in Absentia)
Maxwell-Davies: Prince (Cinderella)
Mozart: Guglielmo (Cosi Fan Tutte)
Pergolesi: Uberto (La Serva Padrona)
Pompili: Apologizer (Touch Wood)
Puccini: Schaunard (La Boheme)
Purcell: Aeneas (Dido and Aeneas)

Oratorio/Concert (solo roles):
Bach: St. Matthew Passion
Durufle: Requiem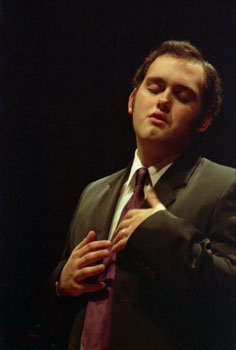 Dvorak: Te Deum
Faure: Requiem
Gabrielli: In Ecclesiis
Handel: Messiah
Koukias: Troparion 2
Mahler: Kindertotenlieder
Mozart: Requiem, Solemn Vespers, Missa Longa
Rutter: Mass of the Children
Schutz: Psalm 150
Sheridan: Psalm 84
Stanford: Songs of the Fleet
Vaughan Williams: Five Mystical Songs

Recital:
Beethoven: An die ferne geliebte
Butterworth: Six Songs from a Shropshire Lad
Chanler: Eight Epitaphs
Dewey: Insomniac
Finzi: Let Us Garlands Bring
Head: Over the rim of the moon
Kay: A Twelfth Night Interlude
Quilter: Three Shakespeare Songs
Ravel: Don Quichotte e Dulcinee, Five Popular Greek Songs
Schubert: Gesange des Harfners
Schumann: Dichterliebe, Liederkries Op. 24
Somervell: Shropshire Lad
Tippett: Songs for Ariel
Vaughan Williams: Five Mystical songs, Songs of Travel
Useful links:
http://www.michaellampard.com
http://www.tasmanianmusic.com/composer.php?composerid=lampard
http://en.wikipedia.org/wiki/Michael_Lampard
http://www.myspace.com/michaellampard
http://www.aussing.com.au/Biogs/Michael%20Lampard%2008.htm

Biography current at 3/10/2008.