Fiona has been studying classical voice since 2001 and during that time has had great success in competitions winning numerous award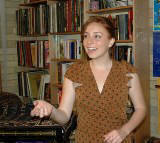 s.
In 2003 she gave her first solo recital at Meadowbank Estate in Hobart.
Fiona has been a 'Bel Canto Australia' soloist in several productions including concerts for Rotary and Camp Quality.
In 2003 Fiona was selected for a major role of 'Hecate' in the 'Bel Canto Young Opera' production of Sir Peter Maxwell Davies opera 'Cinderella' for the 'Ten Days on the Island' Tasmanian Arts Festival.
In 2006 Fiona attend the Tasmanian Conservatorium of Music to commence a Bachelor of Music degree, majoring in voice.