Arabella joined Bel Canto AustraliaIn 1997 studying piano, singing and speech and drama.
Arabella commenced her career in 1996 playing the role of 'Sonja' in the Richard Flanagan film 'The Sound of Once Hand Clapping'.
In 1997 Arabella joined Bel Canto Australia studying piano, singing and speech and drama.
In 2000 Arabella successfully auditioned for the role of young Cosette for the Exit Left production of 'Les Miserables'.
In 2003 Arabella was chosen to perform in the Bel Canto Young Opera production of the Sir Peter Maxwell Davies opera 'Cinderella' which was produced as part of the Tasmanian 'Ten Days on the Island' festival.
Arabella has held the Clarence Eisteddfod trophy for 'original composition' (open) since 2003. She has also won the 'Diana Large' poetry Championship (open), and numerous first place awards for singing. She has been awarded 'honors' in all Australian Music Education Board singing examinations up to grade eight.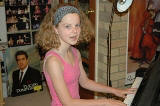 In 2005 Arabella competed in Sydney at the McDonalds performing arts challenge winning a gold medal for 'character song in costume' and medals for poetry and drama.
In 2006 Arabella successfully auditioned for a role in the Alexander Production 'A Mid Summer opera' which had a season of performances at the Sydney Conservatorium of Music.
In October 2009 Arabella performed her Debut Recital at Meadowbank Estate and in November the role of 'Gretel' from the opera Hansel & Gretel by Humperdink for Tasmanian Young Connservatorium.
Links . . .
www.middlemiss.org/lit/authors/flanaganr/onehand.html
www.infilm.com.au/reviews/onehandclapping.htm
www.tourismtasmania.com.au/media/pr/1998/pr980917f.html